Cabinets
Cabinetry is pretty much required for a long term 24/7 packet radio node operation. Even a single port node will turn into an unworkable mess if it is not at least mounted so the individual parts are stable relative to each other. Over the years several hams have built packet node cabinets and it is pretty clear that carpenter hams enjoy the challenge. There are several different ways to go with cabinets. NC4FG, KM4EP, are involved in making the cuts for some really nice cabinets. Some of these cabinets are delivered fully assembled, others as kits requiring glue and sanding for final assembly. If you are out of the loop with those hams, there are a few ways to go to create a serviceable physical structure to hold the nodes. These photos are of practical and relatively trivial structures. The requirement is that the system, including power supplies, radios, Raspberry PI, TNCs, backup system, diplexers, adapters, couplers and whatnot, are all securely attached. A good rule of thumb is to imagine taking the entire thing on the road, hopefully to be handled with only 2 hands, and with the stron possability of inversion, i.e. being turned upside down. Here is a photo essay of Julio KW4WA's
first node cabinet
. Here is a photo essay of NC4AU and KM4IBM's node.
KM4EP cabinet, KA2DEW install
. Here are movies and photos showing Fin's 2021 Skeletor box.
NC4FG 2021 Skeletor
Here are some photos of the 2018-2019 Stackable Mod-Box design from Fin.
The Stackable Mod-Box system has 3 different cabinet types which stack on top of each other and are very stable.
We had a single base-box containing power supply and Raspberry PI, a short cabinet holding a small radio and a TNC-PI, a tall cabinet holding a bigger radio and TNC-PI. The mod-box was originally square foot and later had a round foot as that was easier to make. Cabinets holding the radios consist of only the TNC-PI, nutes-and-bolts, the radio, radio-TNC-PI cable, and velcro.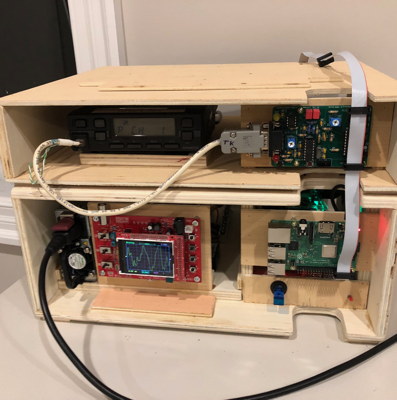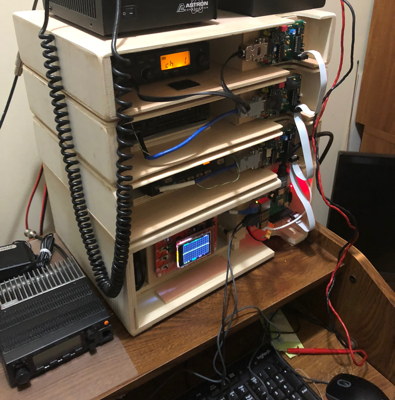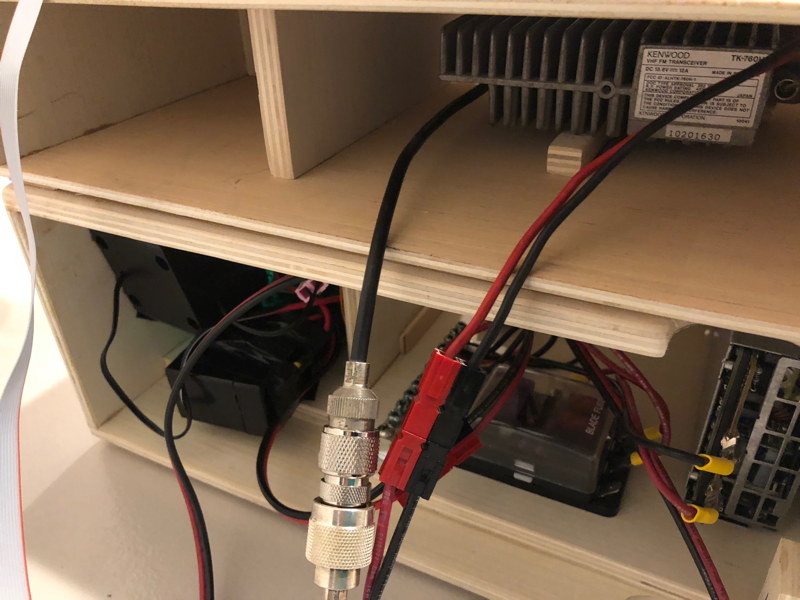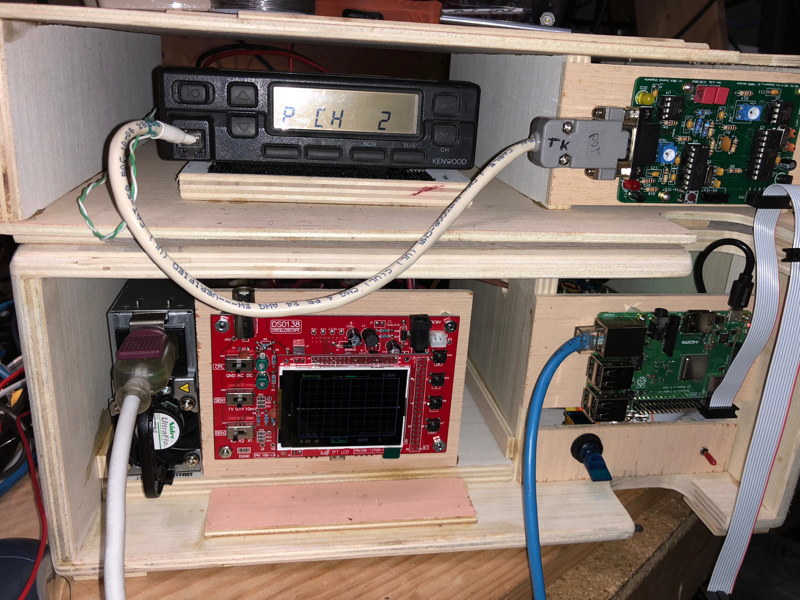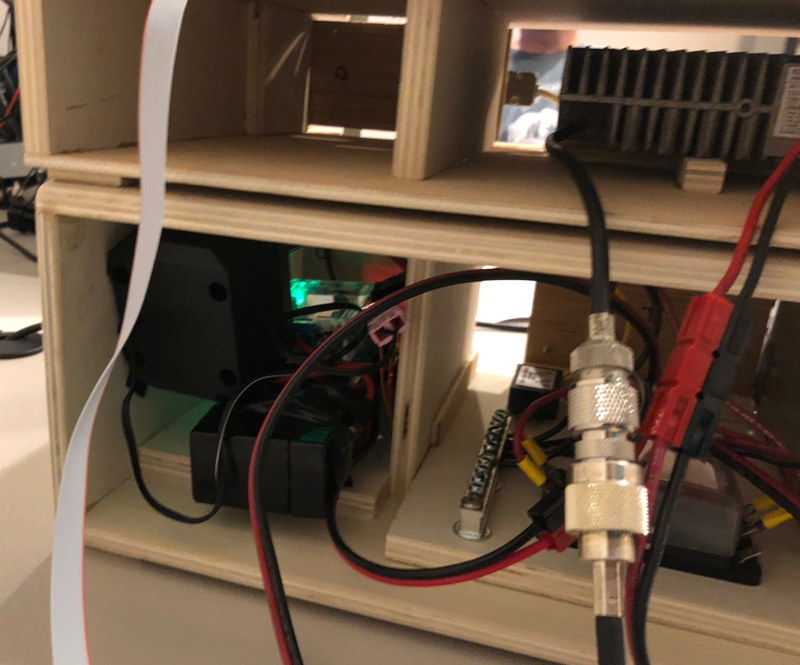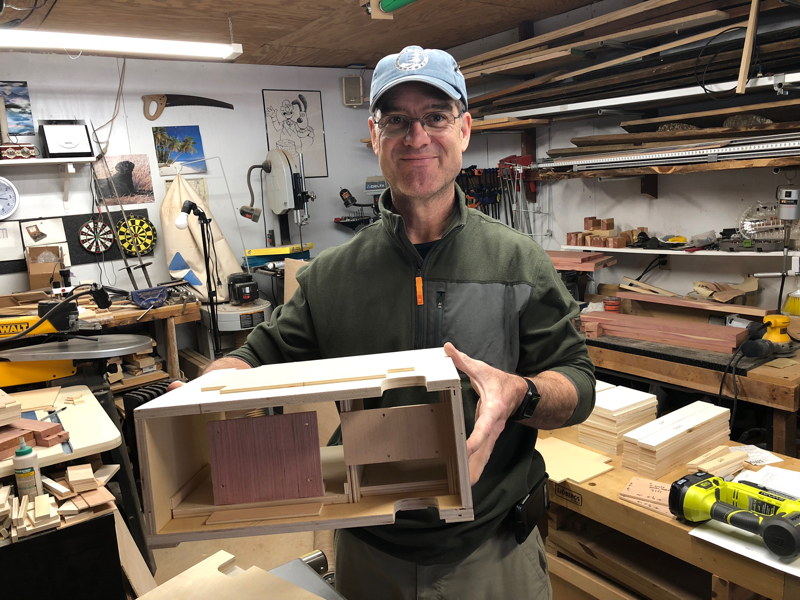 ---
As of this writing, Don N2IRZ, is making cabinet
kits
for node builders who need them. Mark KM4JRH and Doug N3LTV are building boxes and fully outfitting them. I need to make another web page providing photographs, diagrams, and parts lists to do the full outfitting of this cabinet. It is very worth it. If you haven't already gotten in touch with somebody with cabinets, send a query to the
TARPN email reflector
. This page contains photos and close-ups of some of the cabinet designs, as well as a set of design notes from what we've learned about cabinetry as the TARPN project has proceeded. New builders of packet node cabinets would benefit from checking out some of the notes. Here is a link to the
kit-building instructions for Fin's Fall 2018
, which is probably the 7th cabinet design which has been offered to TARPN node builders, and the 3rd design FIN built for us. Right now, Fin isn't doing kits, but Mark KM4JRH may be able to send an empty completed cabinet. This is all a work in progress and nobody is in the business of making these cabinets so availability is inconsistant. Make your voice heard on the
TARPN email reflector
and let's see what happens.
---
Here are some ideas for cabinets. There are a few things that are must-haves.
Excepting the antennas, it would be very handy if the entire node was portable, intact, without a huge amount of work to re-assemble. This would be useful for service, both in your shop or at somebody else's shop. It would also be useful for emergency operations if that ever came to pass.
All elements in the node box should be secure enough that the unit can be lifted and moved.
NinoTNCs should be positioned leds-forward and so it is obvious which NinoTNC is associated with which radio.
Quick disconnect for AC power, or on/off switch for AC power.
Fusing for the DC wires so they are protected from overcurrent.
The digital parts should be easy to see and access but it shouldn't be easy to drop something on it or hit it by accident.
All connections and unplugables should be accessible without major disassembly.
Tugging on the wires from elsewhere in the cabinet can not damage the digital parts.
The cabinet should provide for a robust power supply for the Raspberry PI.
---
Radios:
The radios you are going to support will almost all have maximum dimensions of 7.5" wide and 9" long x 3" tall. Additionally you will need a 2" behind and 2.25" in front for cabling. You will probably be able to make do with an 11.75" deep cabinet.
They should have at least 2" above and 1/2" extra room on the sides for ventilation.
The radios in the node should be provided with airflow around most of the radio and especially through the heat-sinks of the radio. Note that merely telling the radio where the cool air is isn't the same thing as having cool air flow through the radio or the radio's heat-sink.
The cabinet should be open to the back and front for access and ventilation, or a proper chimney is provided with proper attention to heat convection.
Connections to the radios include microphone, speaker, power and coaxial cable. There will be a triplexer on some cabinets.
The most common power supply we're using is an HP supply which is 7.5" x 3.5" x 1.5" chassis with 1" below and 2.5" above required for cabling and clearance for the parts which stick out. There is no clearance required on the short dimensions for this supply. See the power-supply page for details.
---
Types of TNCs
At this time there are two known good solutions and a maybe-coming-soon solution.
TNC‑PI by Coastal Chipworks
full TNC by AEA, Kantronics, MFJ, TAPR, PacComm -- see FAQ:TNC
also possible emulated TNC using DireWolf software on the Raspberry PI and supported by external hardware including USB sound-card, PTT transistor, and timeout circuit
In our network, the TNCs may be mixed and matched. In your cabinet, you may make choices.
---
TNC‑PI
Coastal Chipworks and G8BPQ have created a TNC which attaches to the I2C bus on the Raspberry PI, permitting a large number of TNCs to be attached using just a ribbon cable. This is elegant and cheap. The TNC‑PI was designed to be stacked on top of a Raspberry PI using a 40-pin (or 26-pin) connector which is female on the bottom and male on the top. This connector conceivably allows several TNCs to be stacked. Doing so, however, blocks access to the important transmit level control and makes it difficult to see the PTT and DCD lights. Instead we can use the ribbon cable to string the TNCs together eliminating this problem.
For more information on the TNC‑PI, see the TNC‑PI General Info page.

When building for the TNC‑PI, you'll want to position the TNCs so they can be ribboned together, where the TNC LEDs are visible, and where the TXLEVEL screwdriver adjustable potentiometer is accessible.

The TNC‑PI is powered via the ribbon cable. The ribbon cable can be several feet long and the Raspberry PI does not need to be at the end, or any particular end of the ribbon.

The 40 or 26 pin header should not be installed. Instead a trivial 2 x 5 pin header is placed on the top of the board and soldered from the bottom.
Below left, Raspberry PI with header modified for 2x5 ribbon cable connector. Pins 11 and 12, GPIOS, are removed to permit the IDC connector to fit. Pin 7, GPIO, is also removed so audio on the ribbon cable on that connector is left unmolested by the Raspberry PI.
See 6 photos below showing TNC‑PI outfitted with 2x5 below.

---
TNC Emulation using embedded computer
There are a couple of different software packages available for embedded computers to emulate the function of a TNC. There are two ways this can go for us. One is that we could create a stand-alone TNC-replacement which plugs into the TARPN Raspberry PI via USB. The other is to add the TNC functionality into the TARPN Raspberry PI. The first is more scalable but that may be a temporary limitation.

If we do use an emulated TNC, we will probably need a new interface card for the radio, even though that card won't be a real TNC. Stay tuned.
---
Example cabinets
Skip's first node cabinet design uses a lexan glued interior on the right to present the TNCs out front. The Raspberry PI is mounted with its LEDs facing front just above the TNCs. A commercial surplus switching power supply and gel-cel battery are contained within the lexan enclosure. Removable shelves hold the radios. The association between the TNCs and radios is obvious.

This was an early node cabinet used at the JENRET:KM4IFV node site managed by KA2DEW. The radios are tie-wrapped into chicken-wire shelves. This provides great ventilation. Note the stacked TNCs and Raspberry PI.

---

Fin's first node cabinet design aligns the TNCs and Raspberry PI on a removable wooden card which can be remove for service. In this particular cabinet a plastic shield may be placed over the front and a fan plus filter keep the wood-shop's dust from getting into the gear.
Fin said he plans to make cabinets like these for our local network builders who need them and can use them. Without the fan these cabinets are pretty easy for Fin to build.


---

This 2 port node powers its digital section with an off-board 12v battery with charger and 12v to USB cigarette lighter adapter. The TNCs and Raspberry PI are tied down with tie-wraps. Radios are screwed down and power supply is velcroed and then strapped with tie-wraps. The extra DC wire is there to enable moving the power supply elsewhere. The board is 8" deep by 24" wide. The node had to fit on a shelf with only 8" of clearance. The entire package is removable as a unit for servicing.


---

NC4FG built these 3 cabinets to use for a software development effort and for portable demo systems.


---

The three cabinets below were one-offs with chicken wire under the radios.
that
The following four photos show a cabinet made by Charlie, WA3UTC for his DAVIS node. It supports 4 radios. This cabinet was the genesis of the TARPN version of the TNC-PI providing a PTT test button and switchable audio feed to monitoring accessories.

In Charlie's node the TNC-PIs are connected via ribbon cables and the LEDs are brought out to the front panel. The audio from all 4 boards is mixed and presented to a high-impedance audio amplifier (so switching to monitor doesn't impact the received data signal) and also to a LED VU meter. This is fabulous for checking the quality and audio level on the link receive.