NC4AU+KO4IBM node-box 001
Photos by Tadd KA2DEW. Carpentry by Jay KM4EP. Equipment installation by KA2DEW. October 2020, a single port node with dual Raspberry PIs and NinoTNC link.
---
The box is one of several boxes of this design built by Jay KM4EP. The box has 3 levels, plus the top, and a side-car which holds the HP power supply and a 2.5 amp gel cel.
Designed to be a 2 or 3 port node box, the top two shelves have T-shaped radio mounts which permit the radio to have some heat venting underneath.
---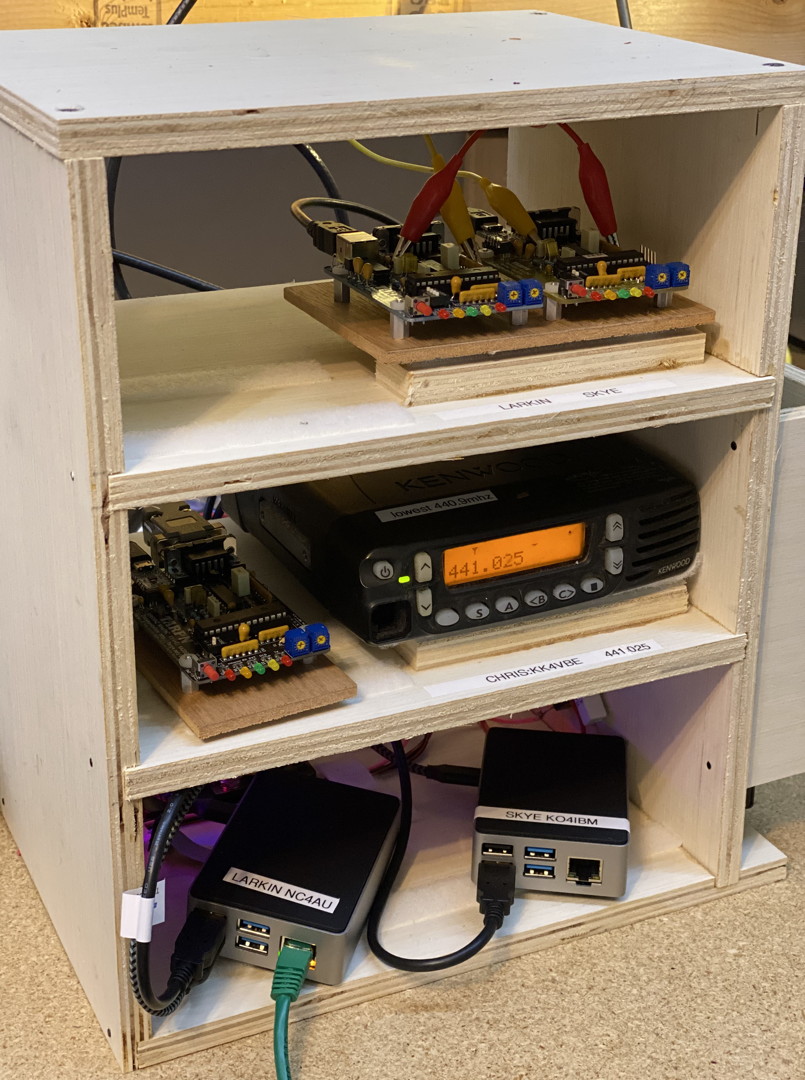 ---
When I (ka2dew) outfitted this box, I installed two separate DROK supplies and two Raspberry PIs, one for NC4AU, Larkin, and one for his son, Skye KO4IBM.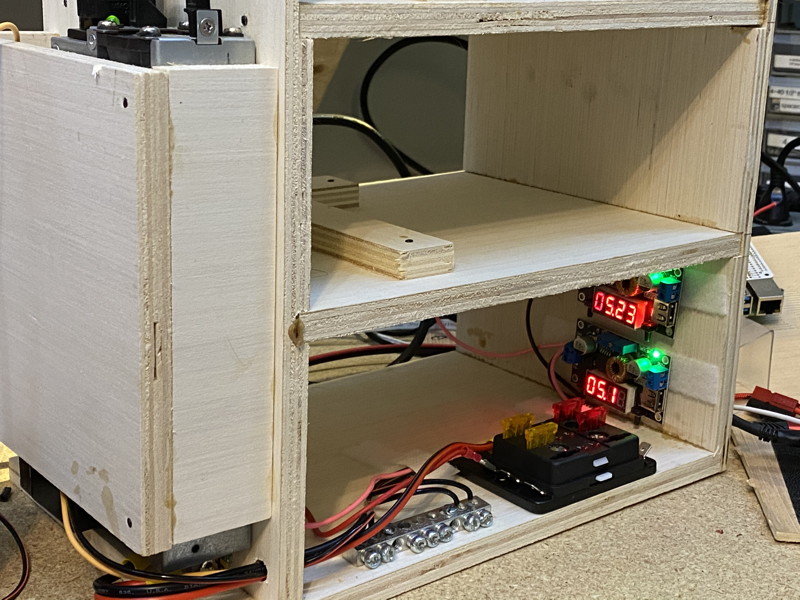 ---
The Raspberry PIs will connect to the local network via WiFi or Ethernet. I Velcroed the Raspberry PIs so they can be easily accessed. This way, if needed, video can be plugged into either or both Raspberry PIs.
In order to have LARKIN and SKYE able to link together, I used a pair of NinoTNCs where the TXA and RXA loops are clipped backand forth. The 2nd shelf has a NinoTNC and radio for linking the LARKIN node to CHRIS:KK4VBE-2.
In this photo, the battery and power supply are on the sidecar off the right side of the box.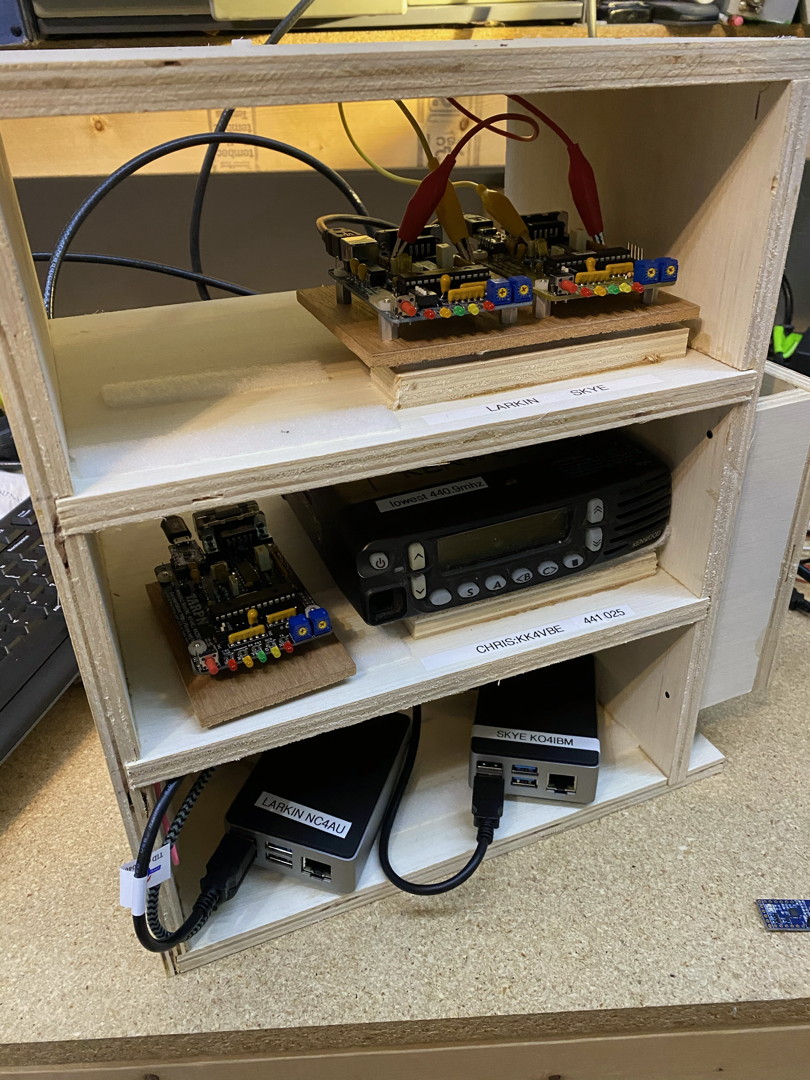 ---
The right wall (from the front perspective) has the battery switchover circuit.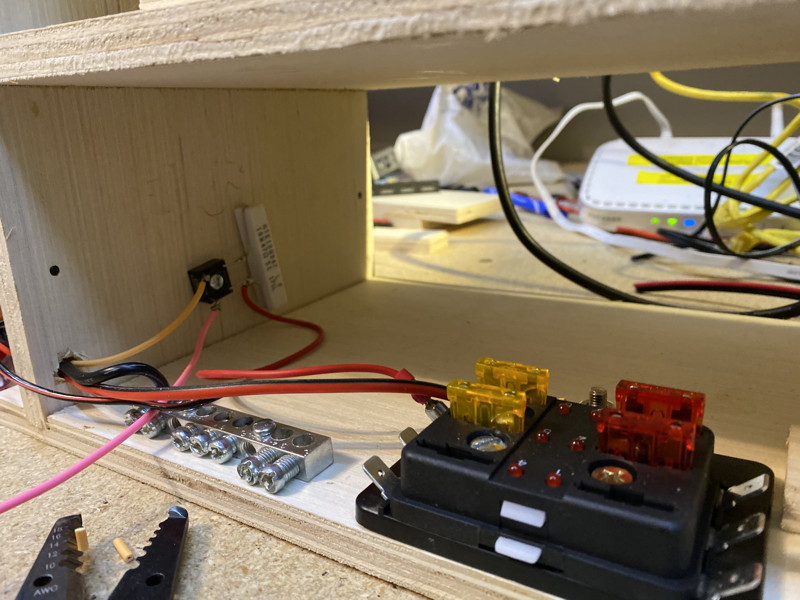 ---
Closeup of the battery and power supply side-car. In this photo I am pushing the battery up to get access to the + tab so I can attach the orange lead from the switchover/charger circuit.