BPQ Term is a program which enables a workstation to connect to your local packet node via Telnet. The program scores in that it gives you a place to type, and a place for your received data. It's bonus feature is that it also gives you a window to watch diagnostic/monitor traffic from the node. You can watch messages pass through your node and see what visitors are doing.
The program makes it rather easy to make an outgoing connections through your node.
The only thing BPQ Term will not let you do is accept an incoming connection.
Link to G8BPQ's page on TermTCP -- Versions for Linux and for running locally on the RaspberryPI TARPN mirror for BPQtermTCP

You don't need to install BPQtermTCP.exe for MSWindows. Just run it. You'll have to do a little configuration. Go to the Setup menu and pull down to the TCP Hosts, and then click in the first entry. Fill in these figures:
IP address of your Raspberry PI
8011
local op callsign in lower case
p
Now go to the Connect menu and pull down to the first entry which will be your IP address. Screenshot of MSWindows version. Click for larger image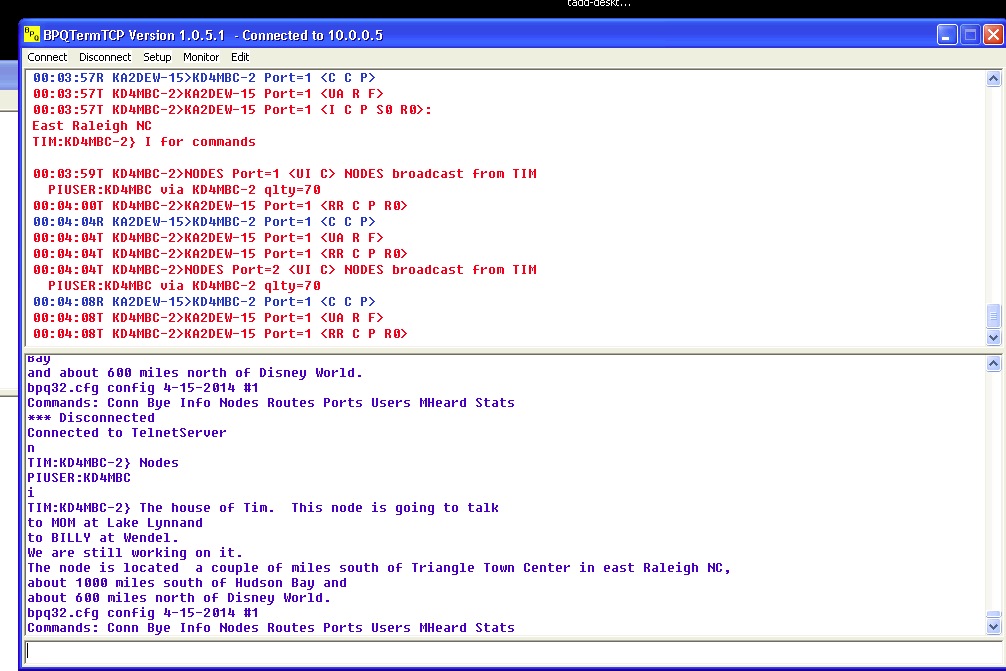 Use the dropdown for Monitor to configure things. You can add ports and then check them to monitor them. Once you have set the options you want, close the program by using ALT F4 and then restart it to see your options. The program installs on the Desktop so go find the yellow icon there and double click to start. You can start multiple copies of it to connect out to multiple destinations.